Y.Cougar
Non-Destructive Testing with a High Resolution Microfocus X-ray
The compact Y.Cougar provides a microfocus X-ray inspection for the widest variety of inspection requirements in the electronics such as BGA and PCB to small cast parts with its geometric magnification up to 2,000 x. Available to go phased implementation from 2D to upgrading CT(3D) inspection.
Our Impression:
It's simply convenient. Just leave some workpieces on the table because the X-ray is irradiated vertically from the bottom to top. Jig preparation for setting the workpieces is not required. The X-ray image quality is excellent thanks to the software technology. The operation is also simplified such as one-click solutions which make manual inspection effortless.
| | |
| --- | --- |
| PRODUCT NAME | NDT: Microfocus X-ray / CT System |
| MANUFACTURE | YXLON |
Y.MU 2000
Non-Destructive Testing with a High Powered Minifocus X-ray
Non-Destructive Testing Machine with high penetrating force. X-ray tube voltage is up to 450kV in order to inspect from FRP, Aluminium castings through steel. Available to do the phased implementation from 2D to upgrading 3D inspection. Y.MU2000-D complies with different general standards like ASTM E2737 for system testing, ASTM E2339/E2699 DICONDE (Digital Imaging and Communication in Non-Destructive Evaluation) for standard image data archiving as well as ASTM reference images for aluminum (ASTM E2422), investment steel (ASTM E2660), titanium (ASTM E2669), and magnesium (ASTM E2869) in order to fulfills specific manufacturers' inspection requirements.
Our Impression:
This best seller machine has an excellent X-ray image quality especially thanks to HDR(Highly Dynamic Radioscopy)-Inspect software. HDR technology provides superb detail detection, even though varying material thicknesses without focusing on the specific area. In addition, 2D Moving Image inspection (HDR Filter) technology enables dynamic inspections that maintain high quality image while continuously performing X-ray with "image processing" filter when inspecting the large sized workpieces. If the required amount of X-ray inspection is high, this is the suitable machine for the productive inspection.
| | |
| --- | --- |
| PRODUCT NAME | NDT: Minifocus X-ray / CT System |
| MANUFACTURE | YXLON |
YXLON FF20 CT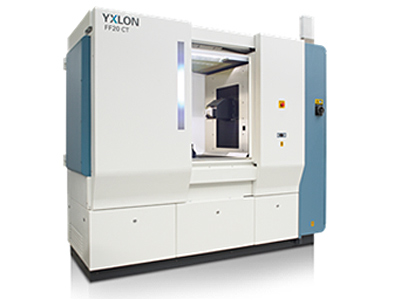 Non-Destructive Testing and 3D Measurement with a High Quality Multifocus X-ray
High Definition data by nanofocus X-ray enable to go accurate 3D measurement and wide range of the application such as Semiconductor packaging, Materials and life sciences, Microsystems, MEMS and MOEMS, Medical Devices.
| | |
| --- | --- |
| PRODUCT NAME | NDT: Multifocus X-ray / CT System |
| MANUFACTURE | YXLON |