2021-07-05
[3DSCAN] Product Information: Geomagic Control X 2020
What's New in Control X 2020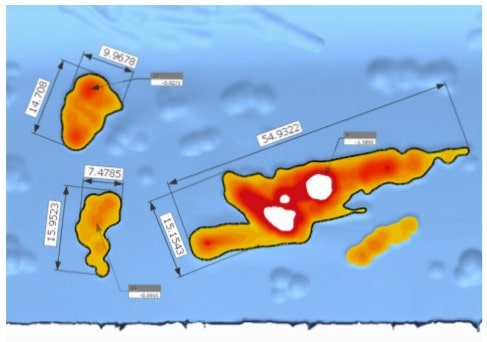 Deviation Location:
Identity and characterize the deviations on surfaces such as dents and corrosion. A new dimensioning option allows the measurement of the relative major length and corresponding minor width of deviation objects.
Inspection Viewer (Free):
Geomagic Control X now has an inspection viewer mode which has the ability to open existing inspection projects, make aesthetic changes to the project, and create an own report.
Simulated CMM Points: 

Simulated CMM Points are now compatible with point clouds enabling users to simulate real world contact inspect for a variety of scenarios.
Take a Quick Look


New version will meet the further 3D inspection reporting needs.
Control X Feature Comparison by Editions
Features
Control X Essentials
Control X Essentials
Connect
Control X Professional
Basic I/O
Import/Export Neutral CAD (IGES, STEP, etc.)
✔
✔
✔
Import/Export Neutral Scan (STL, PTS, etc.)
✔
✔
✔
Adv. I/O
Import/Export Native CAD
✔
Import PMI CAD
✔
Import ASCII Geometry
✔
Automation
Repeatable Inspection (Replace Meas. Data)
✔
✔
✔
Scan Process
✔
Batch Process
✔
Automation Server
✔
Alignments
Initial Align
✔
✔
✔
Best Fit
✔
✔
✔
RPS
✔
✔
✔
Datum
✔
✔
✔
3-2-1 Align
✔
✔
✔
Coordinate Align
✔
✔
✔
Transform
✔
✔
✔
Adaptive
✔
✔
Homing
✔
✔
Compare
3D Compare
✔
✔
✔
2D Compare
✔
✔
✔
Cmp Pts
✔
✔
✔
Geometry Dev
✔
✔
✔
Boundary Dev
✔
Virtual Edge Dev
✔
Silhouette Dev
✔
Curve Dev
✔
Plots
✔
Airfoil
✔
2D Twist
✔
Deviation Location
✔
Ref. Geom
Sim CMM Point
✔
✔
All Other Ref Geom.(Vector, Plane, Pt, etc)
✔
✔
✔
Scanner Direct Control
Scanner Plugins (Creaform,Cobalt, etc)
✔
✔
LiveScan, LiveInspect, LiveGeometry, etc
✔
✔
Move Device, Probe Sequence, etc
✔
✔
Basic CAD Tools
Delete
✔
✔
✔
Reverse Normal
✔
✔
✔
Convert to Mesh
✔
✔
✔
Assign Tolerance
✔
✔
✔
Transform Body
✔
✔
✔
Adv CAD Tools
Sew, Split
✔
Offset, Thicken, Mirror, Separate
✔
Healing, Find Defect
✔
Scan Tools (Mesh+Points)
All (Merge, Fill holes, Filter Noise, etc)
✔
✔
✔
Region Tool
All
✔
✔
✔
GD&T
All (2D+3D)
✔
✔
✔
Curve Tools
Spline, Section, Intersection, Boundary
✔
Offset, Project, Mirror, Convert
✔
UV Curve, Fit Spline, Smooth, Trim, Extend
✔
Split, Match, Merge
✔
Insert+Remove Node, Remove Constraint
✔
Contour Curve from 3D Compare
✔
Multi-Result Inspection
Single-Result Inspection
✔
✔
✔
Multi-Result Inspection
✔
Report Tools
All
✔
✔
✔
Add-ins
Script Add-in, etc.
✔
---